From August 30th, 2023 to September 2nd, 2023, the speed community met in Saarlouis for the 5th event of the ISSA World Series 2023. The German championships were also held in the same competition. A total of 215 athletes were there in the disciplines FS, AE, WS and Speed. A total of 6 women, 2 juniors and 9 men from 5 nations competed in the individual competition. The weather forecast promised exciting days with changing conditions, but good jumps could be completed on all competition days and new best performances were achieved.
At a high level, Marco Hepp confirmed his very good form and jumped unchallenged to gold. He reached an average speed of 517 km/h over 8 rounds. On the other hand, the duel for silver between Matthias Kraft from Skydive Westerwald, Thorsten Morhaus from Neckarsulm and Fabian Wernli from Switzerland was exciting. After constantly changing the lead, the result after the 8th round was extremely tight with a slightly better result for Fabian Wernli (485 km/h) in the international classification. Directly followed by Matthias Kraft (484 km/h) ahead of Thorsten Morhaus in 4th place with an average speed of 482 km/h. The field of pursuers also caused a stir. Peter Talkovski and Toni Schmidt were able to surpass 480 km/h and thus made a huge leap in performance. Both are therefore also recommended for the 2024 World Cup in Israel.
In the women's Speed ​​Skydiving, Sara Lundqvist from Sweden (434 km/h) secured gold in front of Juliane Radow from Sattel with 395 km/h. Third place went to Corinna Burk from Erdmannhausen (367 km/h). Kiera Chapman also showed good form with good results. Unfortunately, she had to leave earlier due to appointments and was unable to complete the competition. The junior in this discipline, Linus Eckenigk (FSC Eilenburg), was also able to build on his excellent performance from the European Championships in Prostejov at 408 km/h and secured the gold medal.
Scores & Winners
ISSA Speed Skydiving World Series Champions 2023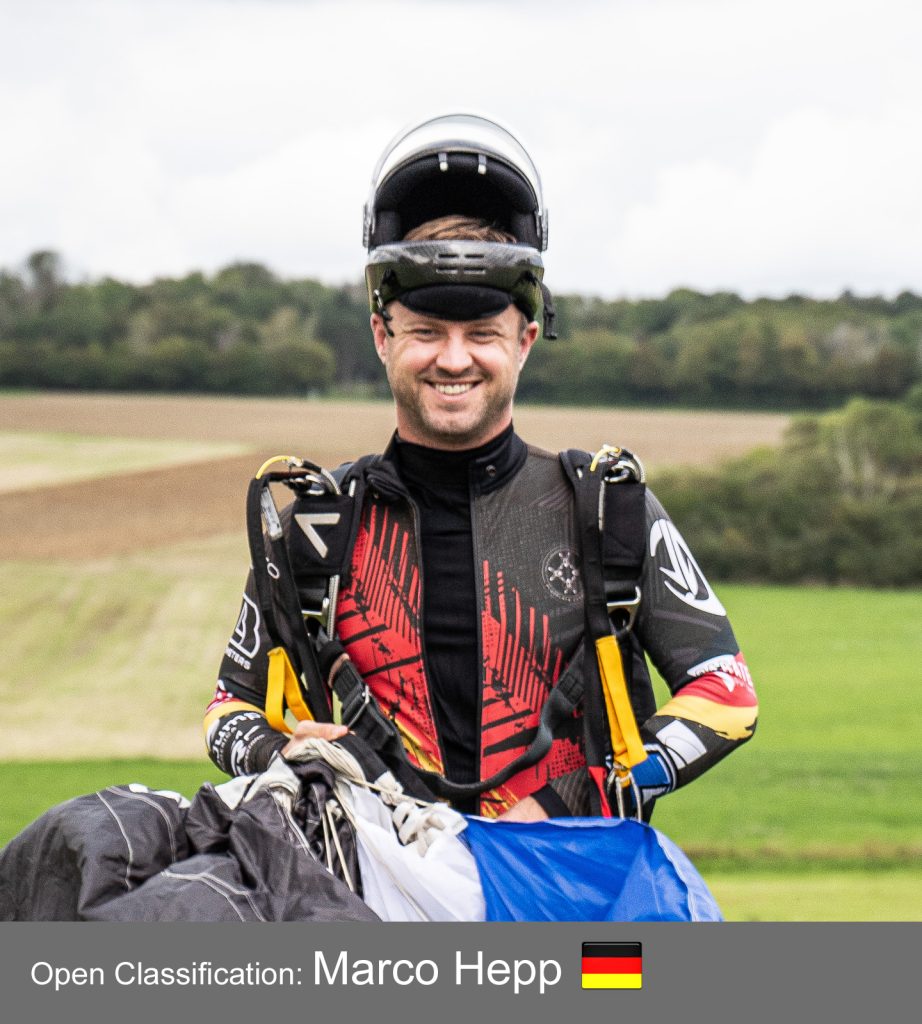 Mixed Team Event
Thanks to the regular weather breaks, we were able to use the time very well to recruit new team members for the mixed team competition. A total of 11 teams tried their hand at the young format. There are always 2 people of different genders and they are evaluated together. A total of 3 rounds are jumped. Since most of the other disciplines were already finished on Saturday, the newcomers had time and plenty of desire to try their hand at speed skydiving in the best conditions. The established teammates gave the newcomers advice and support, so that new German performance records could even be set. The newly married Lena Plumpe (Reeker) and junior Anabel Brugger showed outstanding record performances. The fun factor was of course at the maximum level. The winners were Team FastFlvg with Lena Plumpe and Peter Talkovski. However, the advantage was only marginal in front of Team Swedenland with Sara Lundqvist and Fabian Wernli. Third place went to Team Lightspeed! Verena Rickert and Matthias Kraft, who complete the podium at almost the speed of light. Unfortunately, they were just beaten in 4th place by Team Simply Fast with Melanie Decker and Reinhard Wiesenhofer.
At the end of the competitions there was enough reason to celebrate and the competitions came to an end with the medals deserved.
Words by Marco Hepp, Photos by Paul Hoenhorst
This website uses cookies. By continuing to use this site, you accept our use of cookies.